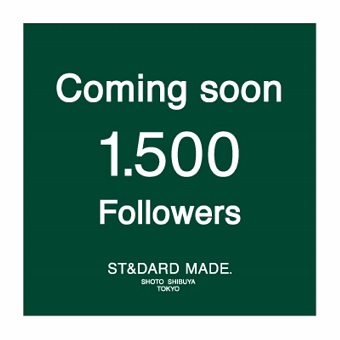 FOLLOWERS ONLY THANK YOU SALE ‼︎
いつもST&DARD MADE.をご愛顧いただきまして誠にありがとうございます。
この度、INSTAGRAMにて、フォロワー数1500人に到達間近となりました。
これもひとえに皆様のご愛顧の賜物と心より感謝申し上げます。
フォロワー数1500人に達成致しましたら、日頃のご愛顧頂いております皆様に感謝の意を込めて、ご来店頂いたフォロワー様限定記念セールを開催致します。
詳細は、1500人到達後改めて当店SNSにてご報告させて頂きます。
これからも末長く皆様に愛されるお店なりますようスタッフ一同、サービス向上に努めて参ります。
Thank you very much for your continuous support of ST&DARD MADE. and
now approaching 1,500 followers at INSTAGRAM this time.
We are deeply grateful to your patronage.
When it reaches 1,500 followers, we will have an anniversary sale for
Our followers only visit our store with our feelings of gratitude to all of your support.
Further information to be announced soon with our SNS after reaching
1,500 followers.
We keep working hard to improve our services so that our store will be
loved more and longer.
ST&DARD MADE. スタッフ一同
http://standard-made.jp/
#スタンダードメイド #standardmade #セレクトショップ #selectshop #東京 #tokyo #渋谷 #shibuya #松濤 #shoto #奥渋 #okushibu #奥渋谷 #okushibuya #代々木公園 #yoyogipark #shibuyacrossing #outfit #instafashion #ゾゾタウン #zozotown #zozo #フォロー #follow #フォローミー #followme