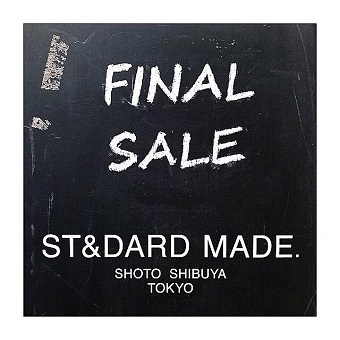 日頃より当店をご愛顧頂き、誠にありがとうございます。
本日の1月28日(土) より "WINTER FINAL SALE" を開催致します。
今シーズンの人気商品のラインナップを充実させて、
お買い求め易い価格でご購入いただける最後のチャンスです。
是非、この機会にご覧ください。
皆様のご来店、スタッフ一同心よりお待ち申し上げております。
ST&DARD MADE. スタッフ一同
Thanks to daily your continued supports, we are happy to announce "WINTER FINAL SALE" will start from 28/JAN(Sat), 2017.
In this sale, you can get popular items of this season with more affordable prices.
By all means, please come and get on this occasion.
Very looking forward to your drop in on ST&DARD MADE more than a heart.
Every staff from ST&DARD MADE.
ST&DARD MADE.
1F SHOTO-EIKO BLDG
1-1-3 SHOTO SHIBUYA-KU
TOKYO JAPAN
TEL 03-5738-5506
http://standard-made.jp/
#スタンダードメイド #standardmade #セレクトショップ #selectshop #東京 #tokyo #渋谷 #shibuya #松濤 #shoto #神山町 #kamiyamacho #富ヶ谷 #tomigaya #奥渋 #okushibu #奥渋谷 #okushibuya #代々木公園 #yoyogipark #セール #sale #shibuyacrossing #outfit #instafashion #ゾゾタウン #zozo #zozotown #finalsale #wintersale