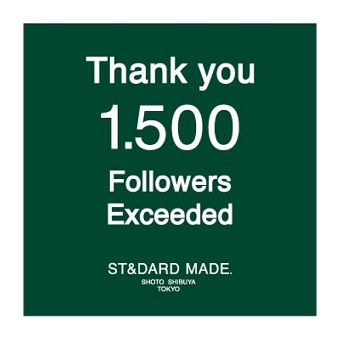 "1500 FOLLOWERS EXCEEDED"
【FOLLOWERS ONLY THANK YOU SALE】
本日5/31までとなります!
いつもST&DARD MADE.をご愛顧いただきまして誠にありがとうございます。
現在開催中のINSTAGRAM フォロワー数1500人様突破記念フォロワー様限定セールでございますが、
ご好評につき期間延長致します。
これもひとえに皆様のご愛顧の賜物と心より感謝申し上げます。
これからも変わらぬお引き立てを賜りますよう心よりお願い申し上げます。
1500 FOLLOWERS EXCEEDED
THANK YOU SALE
2017年5月27日(土)~2017年5月31日(水)
店内全商品10%OFF
ご来店の上、お会計の前に当店フォローページ画面をスタッフにご提示下さい。
(※店頭でのSALE告知はしておりません。)
また、期間中、ご来店頂いたお客様対象に当店のINSTAGRAM、FACEBOOK、TWITTERのいずれかで
「フォロー」頂いたお客様に、店内全商品5%OFFさせて頂きます。
これからも末長く皆様に愛されるお店なりますようスタッフ一同、サービス向上に努めて参ります。
皆様お誘い合わせの上、ご来店を心よりお待ち申しております。
ST&DARD MADE. スタッフ一同
http://standard-made.jp/
"1500 FOLLOWERS EXCEEDED"
FOLLOWERS ONLY THANK YOU SALE
WITH GOOD REPUTATION, WE WILL EXTEND SALE. .
Thank you very much for your continuous support of ST&DARD MADE.
Now, we are in "FOLLOWERS ONLY THANK YOU SALE" and we will extend it due to good reputation.
We are deeply grateful to your patronage and we sincerely hope that you will have the same patronage as you've done so far.
1500 FOLLOWERS EXCEEDED
THANK YOU SALE
SATURDAY,MAY 26, 2017 ~ WEDNESDAY,MAY 31, 2017
All the goods in store 10%OFF
Please show staff our follow page before your account when you visit our store. (We do not announce about sale at the store.)
Also, during this sale, customers visiting our store and become follower any of "INSTAGRAM" , "FACEBOOK" , "TWITTER", we will give 5% off all items in our store.
We keep working hard to improve our services so that our store will be loved more and longer.
Very look forward to seeing you with your friends very soon.
All the staff from ST&DARD MADE.
http://standard-made.jp/
【ST&DARD MADE. / LINE@ START!!】
ST&DARD MADE.LINE@にてお得な情報を配信しております。
ご登録は下記のボタンをクリックして下さい。
 ↓ ↓ ↓


#スタンダードメイド #standardmade #セレクトショップ #selectshop #東京 #tokyo #渋谷 #shibuya #松濤 #shoto #神山町 #kamiyamacho #富ヶ谷 #tomigaya #宇田川町 #udagawacho #奥渋 #okushibu #奥渋谷 #okushibuya #代々木公園 #yoyogipark #shibuyacrossing #outfit #instafashion #ゾゾタウン #フォロー #follow #セール #sale